Plan your Arctic holiday in Senja today
Experience life under the northern lights and midnight sun
Senja Island, Norway's second largest island, is an absolute paradise for outdoor adventurers of all kinds. Spanning an expansive 1000 square kilometers, the island is known for its jagged mountain peaks, sleepy fishing villages, spectacular white–sand beaches, and lush pine forests.
In winter and spring, thrill–seekers will find plenty of ski–touring, cross–country skiing (all levels), snowshoeing, and cod fishing opportunities. When the warmer months arrive, so does a world of possibilities. Hikers, cyclists, beach–goers, and berry–pickers alike can enjoy countless activities like long walks along endless beaches, mushroom–picking, and more.
Destination Senja offers holiday rentals in three idyllic locations, making it easy to explore all that this incredible island has to offer. Find your destination below!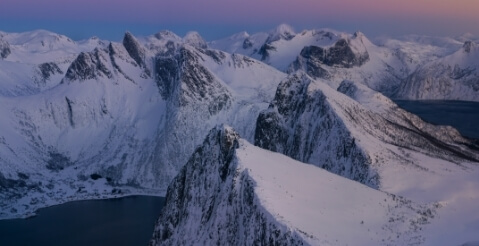 HOLIDAY RENTALS
Rentals at three idyllic locations
COFFEE ROASTERY AND CAFE IN STONGLANDSEIDET
Damn good coffee. Always ethically sourced.
Visit our online shop or come by Senja Roasters Cafe in Stonglandseidet