We Know and  Senja
Destination Senja Apartments by Senjarent has been offering vacation rentals in Senja for the last seven years. Our team knows and loves Senja island and we are here to ensure you make the most out of your time here. We have established partnerships with reputable local tour operators for travellers interested in tours, activities, workshops, rental equipment and guided adventures. Contact us for more information regarding activities offered by our local partners.
Our holiday rentals are situated across three idyllic locations on Senja island: Skaland, Stonglandseidet and Vangsvik. You can choose to stay in the one location or plan a slow road trip around the island and spend a few nights with us in each picturesque location. For advanced ski-tourers, we can suggest to consider Skaland as your base camp as most of the famous mountain peaks are along the scenic route towards to north west coastline.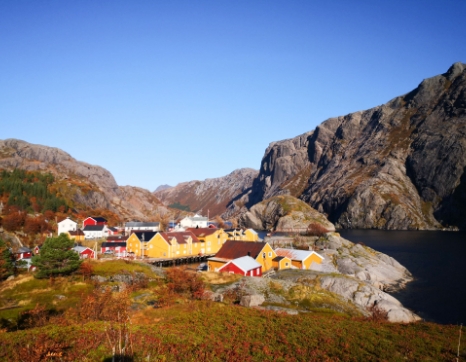 INFORMATION
The apartments have no TV.
Floor-heating, heating and hot water are ready upon your arrival.
The apartment is efficiently ventilated using an eco-friendly ventilation system that recycles the heat, please help us reduce energy use by keeping open doors and windows at a minimum.
Washing machine and dishwasher are ready to use. If you travel with children, please keep detergents away from children. Detergent is basic supplies which are provided in the bathroom, kitchen and service room, marked with cross signs "Irritant".
A First-aid kit is provided. Please look for the sign in the entrance room.
Fire safety includes fire hose in the bathroom, fire extinguisher in the entrance room and smoke detectors in every space in the house.
Please familiarize with their location and instructions for their use.
If the hob and oven in the kitchen don't immediately work, it may have to do with additional fire-safety. Please locate the fire-safety device just under the ventilator beside the wall over the hob. Try to press the button to activate it, and then the hob should work.
RULES
No shoes inside the house beyond the tile floor in the entrance room.
In the event of heavy snowfall, there is a complimentary shovel for your use in order to clear the access to the house.
Please use candles on appropriate holders and heat-resistant surfaces, and never leave a candle unattended inside the house.
Please keep music at a relatively low volume.
Please lock the door and leave the keys back in the safe-lock after check-out. An additional fee of NOK 3,600 may apply if the key is lost or not returned.
HAVE QUESTIONS?
Have any questions regarding our accommodations or tour packages?