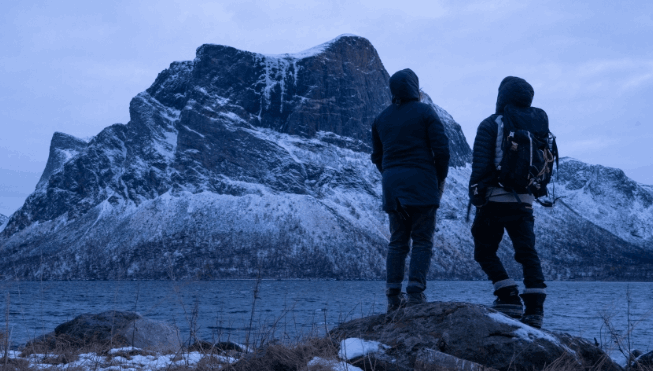 The rough coast of Senja
Wind, weather and sea hit the outer coast of Senja with full force. The mountain peaks with more than 700 fall directly into the sea. The landscape is rugged, with cliffs and rocky outcrops. There are also bays and beaches with small sleepy fishing villages. Some of the white sandy beaches with clear turquoise water can look like a south sea paradise.
Get around Senja
The easiest way to explore this beautiful island is to follow the Norwegian Scenic Route of Senja, which goes along the outer coast. This route has nice, cozy rest areas and breathtaking viewpoints and places where you can spend several hours just watching the arctic scenery, nature and wildlife.
Bovær, Tungeneset and Ersfjord
The lovely beach with the golden bathroom "Gulldassen" at Ersfjord, the culture center "Kråkeslottet" at Bovær (Skaland) with its long sandy bay and the most photographed Okshornan at Tungeneset are worth a visit. The north west part of the island is the best spot to enjoy the midnight sun and to experience the forces of nature.
Senja paradise for hikers and skiing enthusiasts
Some of the peaks rise over 1000 meters and form a mountain world with wonderful sea views and untouched nature. There are marked trails all over the island, including the hiking trail in Ånderdalen National Park which takes about 5 days of hiking (15-20km per day), you camp and stay in cabins along the way. In winter it is possible to do this with cross-country skis. Skaland, Vangsvik and Stonglandseidet are the perfect starting point for hiking and skiing trips.
The midnight sun can be seen for two months
Senja is about 300 km north of the Arctic Circle and has therefore had the midnight sun for more than 2 months. Please consider that the midnight sun can hide behind a mountain. The best spots are: Knuten at Mefjordvær or next to Okshornan from the Tungeneset viewpoint or at Bøvær strand. Highly recommend spending time outside for a summer night hike, guided kayak tour or a campfire and seeing the never-ending sunset of the arctic summer nights. Senja is just below the Northern Lights oval
This means that nowhere on earth are the Northern Lights seen more often than on this island. Leave the villages behind and travel into the Arctic wilderness. Go Northern Lights hunting on the Outer Coast on your own, or for the best experience join a professional Northern Lights hunter to traverse the island to find the clear skies needed to see them.